The following instruments are currently for sale. I accept paypal for non local sales, and cash for local sales. All prices do not include shipping. If you are interested in an instrument, please send me a message through my contact page and include your mailing address for a shipping quote. 

More flutes are available at this time - they will be listed shortly
---

Rottenburgh copy by Rod Cameron. One key flute in a highly flamed boxwood with a solid gold engraved key, ivory bands (pre-cites), screw cap, and foot register. 415, and with older cavallaro roll case. Asking $1650.

SOLD




External links to more pictures: Picture 1, Picture 2

 
---

Bressan 3-piece copy by Robert Sanders. Bressan 3 piece flute at 415 in Grenadilla and ivory (pre-cites). Recent new head cork, key pad, and tenon wrappings. Lovely sound and intonation. I wish I could keep it, but after playing a few concerts on it I have found it to be too heavy for my hands. This is probably one of only a few three piece flutes out there at 415. Asking $1250. 

SOLD



External links to more pictures: Picture 1

 
---

Rare early Godfroy 8 key flute.  Stamped on each part with the sunburst face / Godfroy Aine / star, and on the lower 3 joints this stamp is followed with star / a paris / star. This is the stamp that was used from 1818 to 1828. I date this flute to the early part of this time (1818) due to the lack of serial number. It was sometime during the early part of this stamp that Godfroy started using serial numbers according to Tula Giannini. The head cap has the standard engraved mother of pearl inlay. The flute is made of grenadilla with silver keys. Not stamped sterling, but definitely not nickel silver. All keys are mounted to half moon shaped plates that are screwed to the body. The rarest thing about this flute is the foot joint design. I have talked to many other flute history enthusiasts, and this appears to be the only known flute with this design flute from this maker. On top of that, c-foot flutes of this year stamp are rare to begin with. The foot is an elegant design, and the thick leather pads used are new replicas of what was on there originally. The rest of the flute is fitted with high quality felt pads, and tenons wrapped in natural cork. This flute is delicate and elegant to hold; it is not a thick walled or heavy flute. The sound is small and sweet, and it plays well in all octaves. There is one small repaired crack to the barrel, a missing silver ring on the end of the foot, and a small screw missing on the plate for the long f key. No other repairs or cracks that I can see. The bore of this flute is still nice and smooth, and embouchure hole still crisp. The flute comes without a case. 

This rare design flute is perfect for a collector or a performer, and it is unlikely you will see another flute like this. The asking price of this flute reflects its rarity. Sounding length is 585mm. Embouchure measures  10.65 x 9.05mm. This flute plays well at both 440, head extended 1 cm, and 430, head fully extended. Pitch range is 430 - 445. Asking $2,600. 

SOLD



External links to more pictures: Picture 1, Picture 2, Picture 3, Picture 4, Picture 5
 
---

Martin Freres 5-key flute. This is a stunningly crafted flute by Martin Freres. The wood has a highly figured grain that is in the rosewood family - most likely cocobolo, kingwood, or something similar. All 5 keys are hallmarked and are sterling. Absolutely no cracks; fully overhauled with new corks and pads. The embouchure hole is small and crisp. The case is of a beautiful veneer with brass inlay and the *original* key (rare in and of itself). The original wood grease pot is included. The flute plays with a wonderfully refined sound at 440 with the head out a mm or two. Nice and light with a small stretch, this is an easy playing flute, and you won't be disappointed. The price reflects the rarity in the high quality materials (type of wood and sterling marks) for this company and the lovely case. Asking $1450.

SOLD



External links to more pictures: Picture 1, Picture 2, Picture 3
 
---

Thibouville Noe Fils 11-key flute. This is a high quality flute from the Thibouville firm. The flute features a Boehm-style b footjoint, toulou f#, D-E trill, and squared embouchure hole. The wood is still in great shape, with minimal wear at the tone holes. The flute just received all new pads, head cork, clean, and oil. The tenons feature thread instead of cork - a preference of mine due to the ease of fine adjustment. The flute plays at 440 with the head pulled out about as far as is shown in the pictures, so this flute was made to play at this pitch. Good intonation and high range. Comes with what seems to be the original case, which still securely latches on either side. Asking $1450.

 SOLD



External links to more pictures: Picture 1, Picture 2, Picture 3
 
---

C.S. Barfoot 4-key flute. This boxwood flute by C.S. Barfoot has been fully overhauled with all new leather pads, tenon wrappings, head cork, and one new spring. This flute dates to around 1820, and is no later than 1843 according to the Langwell Index. The flute comes with a new Cavallaro roll case. It plays with a nice strong voice at 440, which will make this a great flute for Irish or folk music. The 4 keys are solid brass, the tone holes are metal lined (a sign of nice craftsmanship), and tenon rings are iv*ry. It is missing the lowest ring, and has two repaired cracks to the headjoint. They have been sealed and stable for the last 10 month. The head is reinforced by an old repair brass ring and still has the original ring underneath. Don't be scared by the cracks! They are stable and this flute plays very well! Because of the rings, this flute is offered for sale in the US only. Asking $500. 

SOLD



External links to more pictures: Picture 1, Picture 2, Picture 3
 
---

Klemm & Bro. 1-key flute.  This is a fully restored one key flute by Klemm & Bro of Philadelphia from around 1880-1900. The wood is a polished cocuswood and all metal is nickel silver. The flute received a new head cork, tenon wrappings, and key pad, along with oiling the bore. The flute plays with a large sound at 440 with the head pulled a few mm. There are two repaired tight cracks in the right hand joint. They are no longer visible and cannot be pictured. The french polish finish was restored in these areas so that it is difficult to find the repair. Good flute for getting started on Irish/celtic music, or to have a historical instrument that is playable. Asking $350.

SOLD




External links to more pictures: Picture 1 Picture 2, Picture 3
 
---

Beukers copy by Simon Polak. One key flute in grenadilla with a sterling key. Pitched at 415. Solid intonation, and nice small stretch. These sell new for over $1800. Asking $1,500 plus shipping.

SOLD


 
---
Goulding & D'Almaine Boxwood 8-key flute. This is a great condition boxwood flute from the Goulding & D'Almaine Company. The stamp on the headjoint is dark and crisp, reading "D'Almaine & Co. / Late / Goulding & D'Almaine /  Soho Square / London" which likely dates the flute to around 1836-1840 when D'Almaine took over the firm from Goulding. The flute has 8 solid brass flat back keys, *unlined* headjoint, and original head cap. There are no cracks to this flute. There is a solder repair to the key head of the short f key, but the repair is solid, and the key pad seats well. The flute has just been completely overhauled with new real leather pads, new tenon threads, and new head cork. It plays right at 440 with the head all the way in. Tuning is good on this flute - as with any of these old flutes, you need to learn each flute's tendencies, but it is all completely manageable and workable. The embouchure hole is nice and crisp. There are a couple knife marks around key heads from a previous old restoration where they cut the pads after attaching it to the key - I have taken a few pictures of these. The marks are all superficial and do not have any effect on the playability of this flute. The flute plays with a strong voice, with a brightness you would expect of boxwood. Depending on how you blow, this could be a great irish/trad flute, or a nice romantic flute. Comes with a slotted roll case. Flutes made like this and still in this great of shape are hard to come by. 

 

Sounding length is 586mm, embouchure measures 10.93 x 9.6mm. Asking $1950.

SOLD

External links to more pictures:

 Picture 1

, 

Picture 2

, 

Picture 3

, 

Picture 4

, 

Picture 5

, 

Picture 6 
---
T.J. Weygandt of Philadelphia Boxwood 4-key wood flute
. This is a very rare, and early example from the shop of Thomas J. Weygandt (1800-1874).The New Langwell Index lists him as a trained wood turner, successor to A. Hart of Bacon & Hart in 1833, and supplier for the Klemm Brothers in Philadelphia. The stamp on this flute reads "T.J. Weygandt / No 10 No 8th St / PHILA. / (lyre)" which dates this flute to 1839 - 1853. The flute quite literally looks like it was just made. All the tone holes and embouchure hole are sharp. The stamp is dark and crisp on every joint. Weygandt's training as a wood turner is evident in the lovely turned rings on this flute. There is a small hairline crack to the barrel that has been sealed and stable for the last year.  
Beyond the shear value as a collector's flute, this flute is a wonderful player. It blows very strong thanks to the metal lined headjoint, but still with that lovely boxwood sound. Chromatic tunings are quite good, and baroque fingerings can be used as well as the keys (though the f-natural is characteristically high). Pitch is between 415 and 433. The flute has been completely overhauled with new pads, cork stops on keys, tenon threads, head cork, and liners sealed. The head cap is a lovely replacement made by Boaz Berney of Montreal and is made of reclaimed ivory and comes with a screw assembly. The flute will also come with a new cavallaro roll case. 
Sounding length is 535mm and the embouchure measures 11.49 x 9.98 mm. Asking $1950.
SOLD
External links to more pictures: 
Picture 1
, 
Picture 2
, 
Picture 3
,
 Picture 4
,
 Picture 5
, 
Picture 6
,
Picture 7
---
Rudall Carte & Co. Cocuswood Bohem Flute.
This Rudall Carte & Co. Ltd flute was made around 1912 in a beautiful cocuswood and with sterling silver keys. The headjoint is fully lined and is slightly thinner than I am used to seeing on wood boehm flutes. The original owner made some modifications to the keywork as you can see, most likely for ergonomic reasons. The c# touch has a 1939 liberty dime soldered on, which I have left as is, the g# key touch was extended a bit, and two keys have cross hatching to them. The crutch assembly was moved probably at the same time, but the original crutch has been since lost. This flute has received all new pads and corks, and 2 springs were replaced. It plays with a wonderful singing sound - the 3rd and 4th octaves are simply amazing. The D4 pops out crystal clear, just like it was a G3. The intonation on this flute is impeccable at 440, which is amazing considering when it was made. If you know Rudall Carte flutes, you know there are different levels of quality on them. The ones with the larger keys are more intermediate instruments. You don't see ones like this come up often - they are the professional quality ones; the flutes people hang on to. 
The flute comes with what may be the original case - fully functional. I have put a bit of rolled up paper towel in the body joint slot so that no pressure is put on the g# key when in the case. There is a repaired very thin hair line to the back of the headjoint and a small old crack repair at the d# key on the foot. Other than that, the wood is wonderful. Serial number is 4854. All parts are marked Rudall Carte & Co. Ltd. Sounding length is 600mm. It plays beautifully at 440 with the head all the way in. Embouchure measures 12.2 x 10.5mm. Asking $2950.
SOLD
---
Metzler, London 6-key flute. This is an early example from the Metzler shop in London. The flute is made of a beautiful grain and color cocus wood with stunningly carved rings and headcap. The turning on the rings of this flute is very nicely done. The 6 keys are all sterling. Joints are marked "Metzler London" and the barrel is marked "Metzler - London - 105 Wardour St." The address indicates a date range of 1816 - 1833 for this flute since it is not marked "Metzler & Co."

 

The flute has had the head cork replaced, new tenon threads, new pads, and the two cracks sealed. The headjoint crack was brought together so that the embouchure hole is not distorted at all nor enlarged. Please see the pictures of the repair. You would have to search for the hairline crack in the head to find it. The barrel is fully sealed - liner and wood. The flute plays with a lovely sweet tone that you would expect from cocus wood. The intonation is very good for this type of flute, and it plays at 440 with the head almost all the way in. Pitch range is probably 430 - 442. 

 

Sounding length is 594 mm. Total length is 672 mm. Embouchure is 11.1 x 10 mm. The flute comes with a new Cavallaro roll case. Asking $1,500.

SOLD

External links to more pictures:

picture 1

,

picture 2

.

 
---
George Cloos 11 key flute. This fully restored George Cloos flute is a beauty. It is cocus wood with a nice shellac finish and dates from around 1900. Cloos was known to have imported some flutes and sold them, but this flute is much higher quality than what you usually see. The embouchure hole is small and square, which gives this flute a nice focused sound. It plays very well in tune in my opinion - better than most simple system keyed flutes out there that I have touched. Nice projection, and meaty lower octave. It plays easily up through A'''. I recently played a Kuhlau duet in a concert on this flute. I have acquired a new keyed flute, so this one must go. No cracks in the instrument other than the sealed on in the barrel. Headjoint is metal lined. New head cork, new pads, new tenon wrappings. The b touch was broken off some time ago. We ground down the rough edge to it so it wouldn't catch on anything in preparation to fabricate another touch for it, but I have never had any use for the low b key. We can fabricate a touch for it for a fee if you would like. Plays at 440 with the head out about a 1/4 of an inch. Pitch range is 430 - 445. Comes in the original case, which has seen it's better days, but is still functional with a rubber band around it. Asking $450 because of the missing touch and metal ring. These flutes that play this well from Cloos usually go for $650 restored.

SOLD



External links to more pictures: Picture 1
 
---
Wurlitzer 8 key flute with ivory head. 
This is a rare early example of a very high quality flute from the Wurlitzer shop in Chicago. Made around the turn of the century, this flute features an ivory headjoint with the embouchure hole still intact. There is a small crack on the back side of the head which has been filled. There are absolutely NO cracks in the wood of this flute anywhere and this flute was made of exceptional quality wood. The grenadilla is a very fine, tight grain that resembles the smoothness of ebony. The left hand heart joint is made of what I believe to be cocus wood and has a stunning grain to it. The serial numbers on the heart and the barrel match, as do the Wurlitzer stamps. I believe this was an upgrade for this flute, possibly to darken the sound a bit. All of the keys bear the key mark of "XI" (or "IX" depending on how you look at it). The C and C-sharp touches have both XI and III marked on them. It is somewhat unusual to have key marks, and it is still unknown as to whether they denote a specific key maker, or help the right set of keys go with the right instrument. The C and C-sharp touches feature rollers and are of an elegant design I have not seen before on German made flutes, usually being found on French design flutes. The metal rings and head cap match my G. Cloos flute, which dates from around the same period, so it is likely that they share the same manufacturer since Wurlitzer is known to import flutes and mark them with their own stamp. 
This flute plays very strongly all the way to the low C and with good intonation for one of these simple system flutes. Pitch is anywhere between A=435 to A=445, and plays solidly at 440 with the head out about as far as it is in the pictures above. The flute has been completely refurbished - wood oiled, new head cork, new tenon wrappings, new pads, and keys polished. The case is original to the flute and is also in exceptional condition - this flute was loved and well taken care of. This flute is perfect for playing late Beethoven, Brahms, Schubert, etc all the way through Irish music. Asking $500.

SOLD
---
John Selboe 9 key flute in stained cocuswood. 
Copenhagen, Denmark maker (1807 – 1873). Flute dates likely from the 1840's – 50's. This is a fairly rare example 
from his shop in Denmark. Selboe was well known in his time for his flutes and oboes, and won awards for his designs.
The flute is made of stained cocuswood with a shellac varnish and features high quality craftsmanship on the keywork. Keys are of solid nickel silver. All keys except the C#, C, and B keys have brass tubes for tone holes - a design characteristic similar to many existing period Koch flutes. All block mounts are metal lined to ensure that the wood of the block is stable and the key tolerances do not change, and is another sign of high quality craftsmanship. There is a repaired very tight crack in the headjoint, which is no longer detectable due to re-doing the shellac finish. There is a repaired surface defect to the wood in the right hand joint – this wood grain anomaly was also stabilized with a threaded rod some time ago and is fully stable. 
The bore is still nice and smooth, and the flute plays strongly. Pitch is A=438 – 448 and it plays solidly at 440 with the head out about a half an inch.   It comes with a custom solid Cherry wood case made for the flute. It has all new pads, tenon wrappings, and head cork. I am pricing this flute well under what I feel it is worth because I feel strongly that it needs to be in the hands of a player. Asking $1,600.

SOLD
---
Thibouville 10 key flute in stained cocuswood. 
Paris, France company; flute dates from ca.1860-70. Made of stained and shellac sealed cocuswood. Headjoint is not metal lined like many of the flutes from this era. Nice small and round embouchure hole gives this flute a characteristic French sound which excels in the 3
rd 
octave. Very tight hairline crack was repaired in the barrel. The shellac finish on the barrel was redone so that the finish matches the rest of the flute. No cracks found anywhere else on the flute. The barrel is completely metal lined, socket and all, and passes the suction test.  Keywork is solid nickel silver. All tenon joints are metal lined.Comes with the original case. Pitch is A=432 – 445, so it plays solidly at 440 with the head out about a ¼ of an inch. The flute features a high d to e trill key and a tulou f# key in addition to the standard 8 keys usually found on these flutes. The footjoint is separate, so it can be rotated so that the C and C# keys are easier to reach by people with smaller hands. Asking $375.
SOLD
---
Edward Baack 1 key flute in stained fruitwood
. The flute dates from probably around 1860. It has one nickel silver key and is made of what looks to be a stained fruitwood. There is an interesting section to the grain on the back side of the right hand joint that did not take the stain the same. It has been fully restored with a new head cork, wood oiled, new tenon thread wrappings, and new pad on the key. There were two very tight hair line cracks in the wood, which will not even show up on the camera and you would have to look pretty hard to try to find them. The tube of the key the pivot rod goes into had to be resoldered to the key due to the original solder failing. The key has never been broken or severely bent that I can tell. Marked E. Baack N-York on all joints. Plays very well all the way to A''' even. Pitch is A = 450. Could possibly be a D-flat flute at A=430. It is so hard to tell with these instrument sometimes. Can play at 440 with the head pulled out about a 1/4 of an inch, but thread will need to be added to make the headjoint not wobble. This would be a great flute for an Irish player who plays solo, or for a collector who likes to have playable instruments. Asking $450.
SOLD
---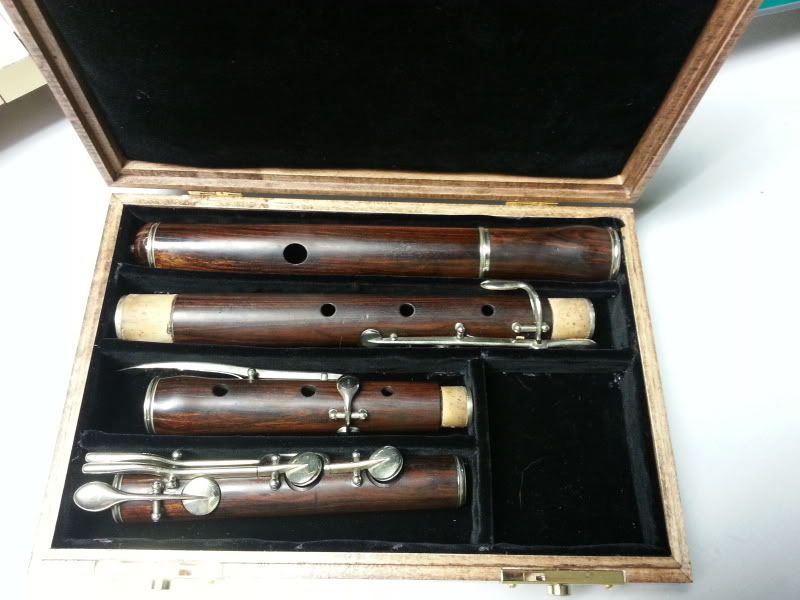 Martin Freres, Paris 8 key cocobolo wood flute:
in cocobollo wood, which is absolutely stunning. 8 solid silver keys. All new pads, tenon cork, and head cork. Freshly oiled. Plays at 440 with the headjoint pulled out a 1/4 of an inch. Unlined headjoint. Wonderful small round French embouchure hole. This is the most in tune period flute I have personally played and would make a wonderful flute to play the late classical through 19th century music and could even be used to play baroque music at modern pitch. The key work on this flute is of exceptional quality - shallow and dainty pad cups, little rollers for the C and C# footjoint keys, the arm to the low C is beautifully curved to the outside of the flute, all tenons have silver sockets. There is a repaired crack in the barrel of this flute, and an old repair to the crown assembly which are purely cosmetic - see pictures. Comes with a custom maple case I made specifically for this flute. Mid 19th century Martin Freres flutes were of exceptional quality and nothing like the 20th century company many might be familiar with. Asking $1,500.
SOLD
External links to more pictures:
Picture 1
,
Picture 2
,
Picture 3,
Picture 4
,
Picture 5
,
Picture 6
,
Picture 7
,
Picture 8
,
Picture 9
,
Picture 10,
Picture 11
,
Picture 12,
---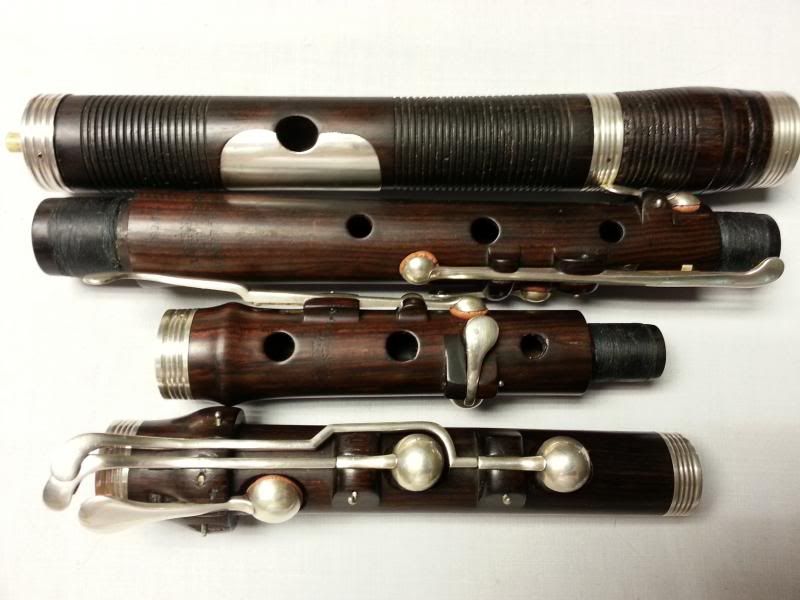 Clementi & Co. Nicholson Improved 8-Key Flute.
The flute is made of cocuswood with 8 salt spoon style solid silver keys, serial number 2034. It is an example of Clementi's medium hole "Nicholson Improved" model and does not have the flattened area between the e and f holes. I believe the silver lip plate is original, all silver tenon bands are original, and it includes an ivory head cork screw assembly. (the entire screw assembly is ivory/bone - see pictures) The headjoint is metal lined and the embouchure hole is original and clean. The flute has been completely cleaned and oiled. New tenon thread wappings, new head cork, and new purse pads on all the keys.  Two springs were replaced. There are a few repaired cracks, none through the embouchure. The barrel has old crack repairs that are stable and were secured with thread wrapping around the wood. There is one crack on the back side of the headjoint that has been filled. The grove turnings on the headjoint and barrel are not all prestinely sharp - see pictures.  One side of the short f block mount is a replacement and was expertly done sometime in the past. The flute plays with a strong voice and at 440 with the head pulled out about 3/4 in.  It seems to play better in tune with itself at this length, head cork adjustment taken into account, so I believe 440 was the intended tuning. Case included. Asking $1,500.
SOLD
External links to more pictures:
Picture 1
,
Picture 2
,
Picture 3
,
Picture 4,
Picture 5
,
Picture 6
,
Picture 7
,
Picture 8,
Picture 9
,
Picture 10
,
Picture 11
,
Picture 12
,
Picture 13
,
Picture 14
---
Moitessier / Godfroy cocuswood piccolo.
One Key Piccolo circa 1840. Marked "Moitessier A. Montpellier". In examining the design aspects and the high quality of workmanship, this piccolo was most likely made by Godfroy Ainé for Prosper Moitessier's shop. The narrow ivory bands are all original. The barrel band has one small crack, but is still secure on the piccolo. The headjoint is unlined and the embouchure hole is nice and crisp. The embouchure hole measures 9.4mm x 7.8mm. The instrument has been fully restored, which included cleaning the wood, oiling, new head cork, new linen thread wrappings, and new pad on the key. The piccolo plays at A=440 and is a d-flat piccolo. (Finger a D and it blows an E-flat).  It has a focused and sweet sound to it - it plays a full range, even up to a high G''' and A'''. This instrument should be played, I just don't have the venue to play something like this. 
Some history on Moitessier: This is from the shop of Prosper Moitessier (1805 - 1869) of France. He is most known for his organs and pianos, and also well known for his string instruments. He ran a music store with his wife in both Montpellier and Carcassonne. He moved to Montpellier in 1830, so I believe this piccolo dates from 1840-1850. This is the only example of a woodwind from his shop, so I believe this was made by Godfroy and stamped with his shop's name. Asking $450 plus shipping.
SOLD
External links to more pictures:
Picture 1
,
Picture 2
,
Picture 3
,
Picture 4
,
Picture 5
---
Last updated 6/14/16